Careers
Power up your career at Dynapower.
Take your skills to the next level with a company that cares about its people.
We're hiring!
We currently have open positions for Production Technicians, Test Technicians, Electrical Engineers, Mechanical Engineers, and Key Account Managers. Apply online today!
Make an impact on the world
At Dynapower, we help solve some of the toughest power conversion challenges on the planet. We're transforming power conversion, and the results of our work move us toward a greener future, one project at a time — whether it's creating clean drinking water, turning trash into energy, or generating hydrogen to fuel zero-emission vehicles.
We've enabled utilities to turn off coal-fired plants, and empowered island nations to harness energy from the wind and sun. We work alongside the Army, Navy, and Air Force to power the defense of our country, and we collaborate with the world's top researchers to push the boundaries of science and innovation.
Training and mentorship
We understand that our success relies on the quality and skills of our people. Our employees are paid for training, reimbursed for professional development tuition, and enjoy a culture of professional mentorship.
Work-life balance
At Dynapower, we care about our employees and support their wellbeing. We offer flexible schedules and a range of positions that offer both remote and hybrid work.
powered by our Values
We're connecting power to purpose to dramatically advance a resilient, clean energy future. By working together, we harness the power of our shared passion for a better world. Our values are the key to how we do it.
RESPONSIBILITY – What we do impacts the world around us. We're accountable for every decision we make.
HUMILITY – We're part of something bigger than ourselves. Let's act accordingly.
AMBITION – We're powered by purpose, always thinking and acting boldly.
COLLABORATION – Every partnership, internally and externally, is a chance to unlock untapped potential.
CURIOSITY – When we ask meaningful questions, breakthroughs follow.
RELIABILITY – We can be trusted to deliver on the promises we make and the services we provide.
Living our daily basics
The foundation for extraordinary people is an extraordinary culture. Our 20 Dynapower Daily Basics describe the behaviors that define our unique culture. They are what guide us and set us apart. We know that culture doesn't happen by accident. The basis of creating a truly high performing culture is the regular and consistent practice of guiding principles.
Safety first, always.
Know and practice the safety procedures for your job. Watch out for the safety of your teammates as well, for we're all part of the Dynapower family. Never take shortcuts that compromise your safety or that of your teammates.
Do the right thing.
Be courageous and demonstrate an unwavering commitment to doing the right thing in every action you take and in every decision you make, especially when no one's looking. Always tell the truth, no matter the consequences. If you make a mistake, own up to it and make it right.
Practice blameless problem-solving.
Demonstrate a relentless solution focus, rather than pointing fingers or dwelling on problems. Identify lessons learned and use those lessons to improve ourselves and our processes so we don't make the same mistake twice. Get smarter with every mistake. Learn from every experience.
Honor commitments.
Do what you say you're going to do, when you say you're going to do it. This includes being on time for all phone calls, appointments, meetings, and promises. If a commitment can't be fulfilled, notify others early and agree on a new deliverable to be honored.
Get clear on expectations.
Create clarity and avoid misunderstandings by discussing expectations upfront. Set expectations for others and ask when you're not clear on what they expect of you. End all meetings with clarity about action items, responsibilities, and due dates.
Listen generously.
Put your phone away, close your laptop. Give others your undivided attention. Be present and engaged. Minimize the distractions and let go of the need to agree or disagree. Suspend your judgment and be curious to know more, rather than jumping to conclusions. Above all, listen to understand.
Speak straight.
Speak honestly in a way that helps to make progress. Say what you mean, and be willing to ask questions, share ideas, or raise issues that may cause conflict when it's necessary for team success. Be courageous enough to say what needs to be said. Address issues directly with those who are involved or affected.
Show meaningful appreciation.
Say thank you … and mean it. Recognizing people doing things right is more effective than pointing out when they do things wrong. Regularly extend meaningful acknowledgment and appreciation — in all directions throughout our organization.
Make quality personal.
Demonstrate a passion for excellence and take pride in the quality of everything you touch and everything you do. Have a healthy disdain for mediocrity. Good is not good enough. Always ask yourself, "Is this my best work?"
Deliver results.
While effort is important, our customers and your colleagues expect results. Follow-up on everything and take responsibility to ensure that tasks get completed. Set high goals, use measurements to track your progress, and hold yourself accountable for achieving those results.
Use data and processes to make decisions.
Make good decisions by relying primarily on facts and data, rather than solely on opinions or emotions. Be objective. Create Systems and processes that support our ability to perform. Analyze the data and use this information to make better decisions.
"Bring it" every day.
Have a passion for what we do be positive and fully engaged. Make the most of each day by approaching every task with energy, focus, purpose, and enthusiasm. Be agile and work with a sense of urgency to get things done.
Be relentless about improvement.
Regularly reevaluate every aspect of your work to find ways to improve. Don't be satisfied with the status quo. "Because we've always done it that way" is not a reason. Be innovative. Ask "What if?" Try a new way. Think differently. Be willing to fail to improve. Find ways to get things done better, faster, and more efficiently.
Assume positive intent.
Work from the assumption that people are good, fair, and honest, and that the intent behind their actions is positive. Set aside your own judgments and preconceived notions. Give people the benefit of the doubt.
Think one team first.
Don't let your own ego or personal agenda get in the way of doing what's best for the team. Be there for each other and be willing to step into another role or help a co-worker when that's what's required for success. Collaborate and help each other to succeed.
Add value.
Find ways to help customers become faster, better, and more effective. Understand their goals and be sure everything you do for them is aligned around helping them meet their objectives. Quite simply, if we don't add value, there's no reason for us to be involved. This includes both internal and external customers.
Know your customer.
Understand your customers' world. Know their challenges and frustrations. See the world from their perspective. The better you understand them, the more effectively you can anticipate and meet their needs.
Deliver impeccable service.
It's all about the experience! Create the "WOW" factor that turns customers into raving fans. With every experience, do the little things, as well as the big things, that surprise people. Make every interaction stand out for its helpfulness. This includes both internal and external customers.
Lead by example.
Walk the Talk. The best way to influence others is through your own example. Walk the talk. Take responsibility, both formally and informally, to coach, guide, teach, and mentor others. Be the change you want to see.
Fix problems at the source.
Address issues by discovering the root cause rather than simply tackling the symptoms. No "Duct Tape" solutions. It's better to invest time in pulling the weeds, don't just cut them.
Benefits that can't be beat
The Basics
Health Insurance, including Medical, Dental & Vision with Domestic Partner Coverage – All eligible on Day 1
Flexible Spending Account
401(k) Plan with Company Match
Health Savings Account with Employer Contribution
Company Paid Short and Long-term Disability
Company Paid Life and AD&D Insurance (with the option to purchase additional coverage)
Voluntary Accident & Critical Illness Insurance Plan
Paid Time Off & 10 Paid Holidays
Paid Parental Leave
Tuition Reimbursement
Employee Assistance Program
Profit Sharing Program
Flexible Schedules
Additional Perks
On-Site Workout Area & Showers
Gym Membership Reimbursement
CostCo Membership Reimbursement
Green Commute Incentives
Free VT Lake Monsters Tickets
Discount Ski Lift Passes
Volunteer Paid Time Off
Fun Employee Events
Envision yourself at Dynapower
Federal Transparency in Coverage
Effective July 1, 2022, the Federal Transparency in Coverage (TIC) regulations require group health plans to make publicly available machine-readable files (MRFs) that contain the negotiated rates for in-network providers and allowed amounts derived from historical claims for out-of-network providers. These regulations call for making these files publicly available with an open access website effective July 1, 2022. Machine-readable files for Dynapower's health plan are available here.
A machine-readable file is a digital representation of data or information in a file that can be imported or read by a computer system for further processing without human intervention. These files follow the Centers for Medicare & Medicaid Services (CMS) defined layouts and are in the CMS approved format(s) (like XML or JSON). These files are not meant to be a consumer-friendly search of rates, benefits, or cost sharing which is intended to come later.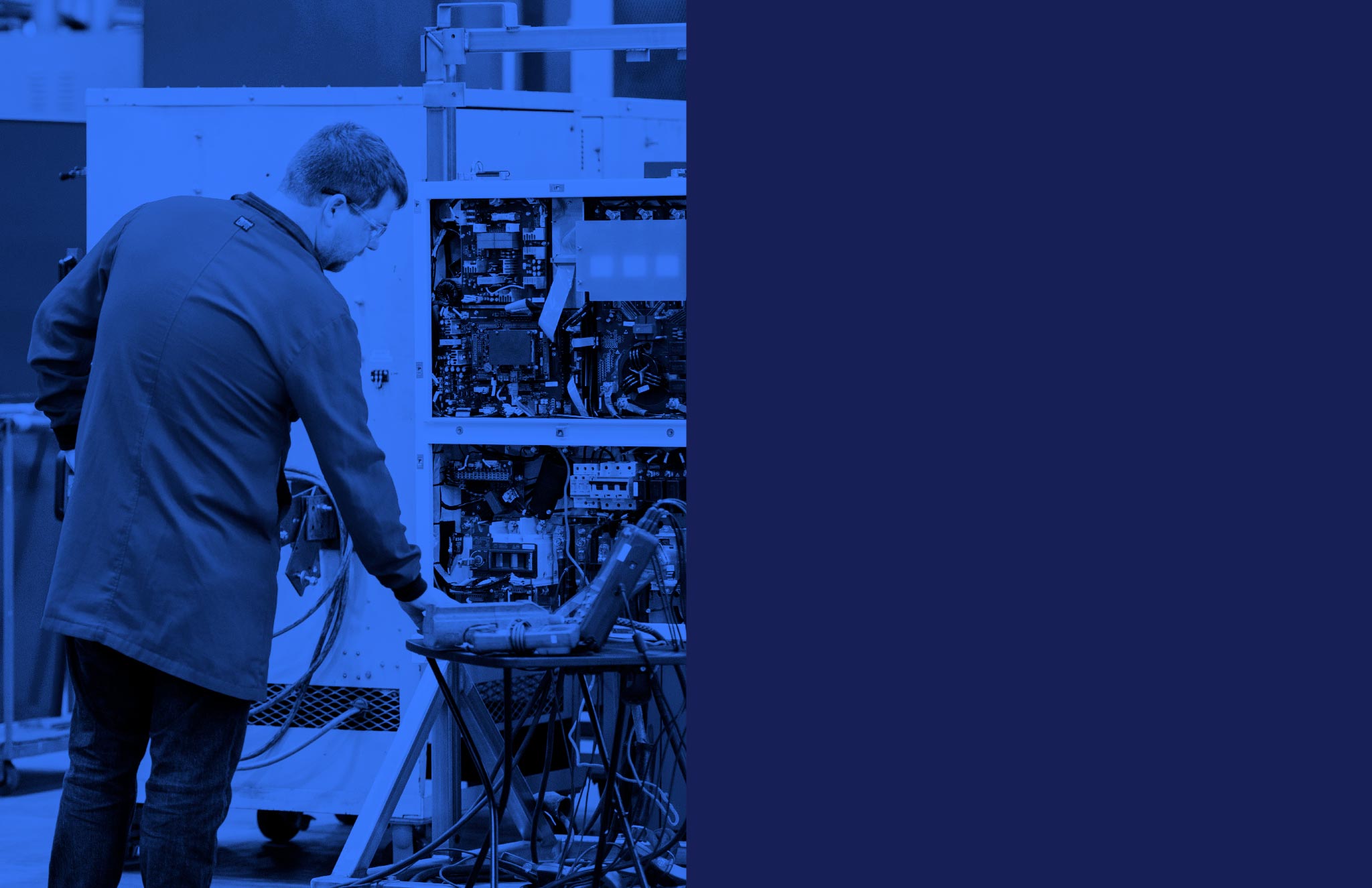 Want a rewarding career in support of a clean energy future? Browse our current job openings to see if there's a spark.